We are well into October now, which means that I have broken out the sweaters and scarves and been reduced to turning the air conditioning on in the house just so that I can wear them.  It is October and it shouldn't be 80 degrees or even 75 degrees out, but I guess that is what I get for living in Atlanta.
There are so many great things about October.  The (slightly) cooler weather, fall festivals (like the upcoming Scottish Festival out at Stone Mountain),  Pumpkin Spice Lattes, the most amazing scented candles coming back to Bath & Body Works, ghost tours, fresh apples, corn mazes, pumpkin patches, repeat watchings of "It's the Great Pumpkin, Charlie Brown" & Halloween.
Yes, I love Halloween.  As I've said before, the dressing up and begging for candy aspect really does not appeal to me.  I like the decorations - hanging up spider webs, skeletons, fake bugs and spiders, and of course putting pumpkins everywhere and carving them up.  Since I was little I have had a love affair with pumpkin carving. Some years it was literal torture to know that through all of October a pumpkin just waiting to be carved was sitting in our house and I couldn't touch it until a day or two before Halloween, otherwise it would go rotten. My sister thought it was gross to scoop out the pumpkin guts, which worked out well for me since I loved it.  As a kid there was nothing better to me than throwing a tank top on and being up to my shoulders in pumpkin goo. I also love designing the faces.  When I was a kid, after I'd gotten to scoop out the goo, my dad would always do the knife work.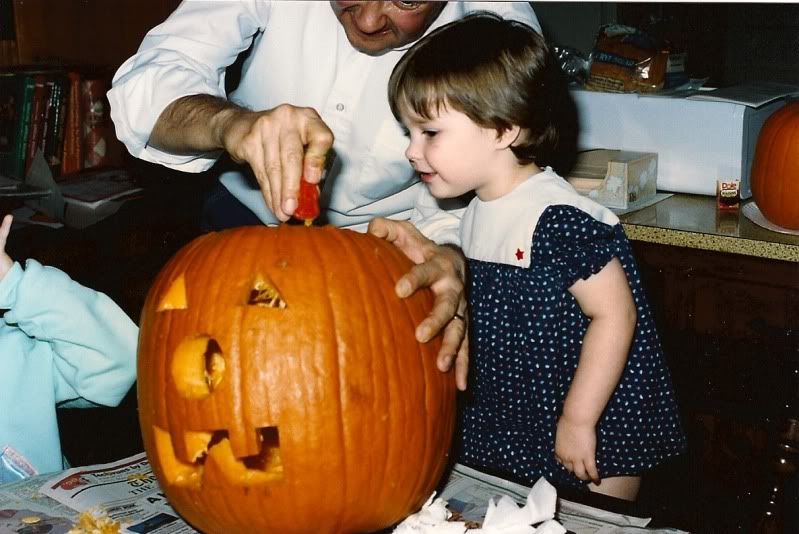 Helping Dad carve the pumpkin in 1990 at the ripe old age of 2.
Back in the days when my dad would wield the knife, the faces were all fairly geometric.  Straight lines usually, the occasional crazy eye.  My sister and I always got some input, but being the engineer that he is, my dad usually had a plan already in place.  As I got older, the pumpkin carving fell more to me because I was the one who really enjoyed it.  I would still scrape out the pumpkin innards and design the face by myself, but Dad still did the actual carving. Eventually I took over the whole operation.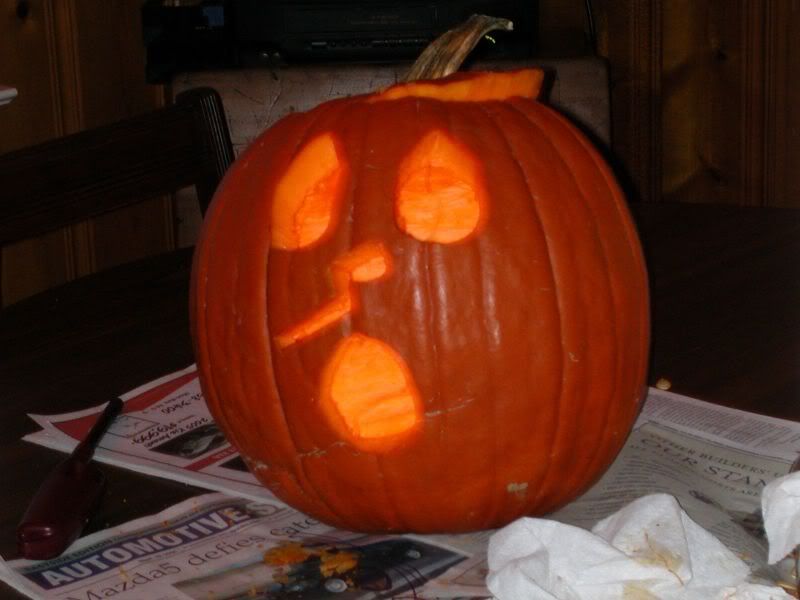 One of my first attempts at solo pumpkin carving.  Not the most imaginative face, but pretty good for a 14 year old.
Unfortunately, pumpkin carving has traditionally been a pricey hobby.  I remember years when the price of pumpkins was so high, we didn't get one at all.  Not so anymore.  Sure, the grocery store and plant nurseries still charge a whopping 6-10 dollars for a large pumpkin (the only kind worth getting, in my opinion), but a few years ago I discovered the Whole Foods Market sold their pumpkins for cheap.  The price used to be 2 pumpkins for $13, then the next year it was an even better 3 pumpkins for $13.  This year has been the best of all: 3 pumpkins for $10 dollars.  That averages out to a little over $3 a pumpkin, which is pretty good considering Publix and Pike Nursery both wanted $6 for one pumpkin.  Plus at Whole Foods, they just stack up all their pumpkins outside to choose from.  There are no size restrictions on their deal: if it's an orange pumpkin, it qualifies (WF also has white pumpkins that are a bit pricier, only 2 for $13.)
So of course I stock up on the biggest pumpkins I can find in their patch.  I remember one year I found a pumpkin in their patch that I affectionately named "Big Bertha" because she weighed in at a whopping 36 pounds.  Since the deal was so good this year, I decided to get 6 of the biggest pumpkins they had (and really, if the price is going to be the same for all of the pumpkins, I might as well get my money's worth).  So now that I have the pumpkins, in a few weeks they are going to need faces.  I put a lot of thought into my pumpkin faces, especially now that I live in a neighborhood that actually gets Trick-or-Treaters.  For years my sister and I were the only Trick-or-Treaters in our neighborhood and to this day my parents house gets 2, maybe 3 knocks on their door on Halloween night.


Not so in Decatur.  The streets are teeming with children every Halloween.  Last year I bought two HUGE bags of candy from Sam's Club and was out of candy by 8pm that night.  I've found that the children actually do appreciate a nicely carved pumpkin with a goofy or scary face on it and the parents seem to enjoy as well.  The last few years I've gotten several compliments on my pumpkin carving.  So I like to start thinking about and sketching out faces a few weeks before hand.  The face will probably change between now and the actual carving (which won't happen until the 30th or 31st) but as a person who likes to have everything planned out, it's best to start early.


I try to make faces that every other pumpkin in the neighborhood won't have, but that still adhere to the spirit of Halloween.  I don't go in for carving celebrities or characters into pumpkins, though I do think that those can be nice.  No, I go for the somewhat traditional two eyes, a nose and a mouth faces.  Sometimes I even get crazy and add eyebrows.  So here are the six preliminary sketches: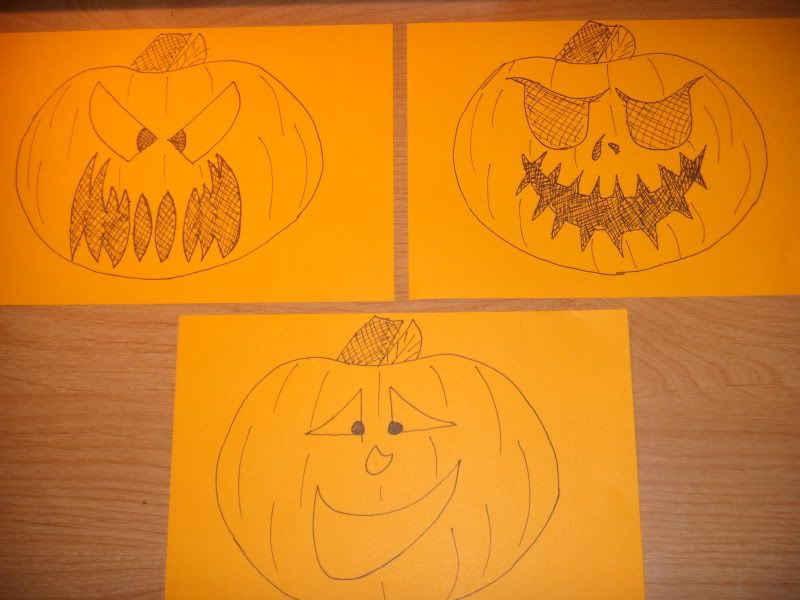 The first three.  I usually try to go for a mix of scary and whimsical, simple but unexpected.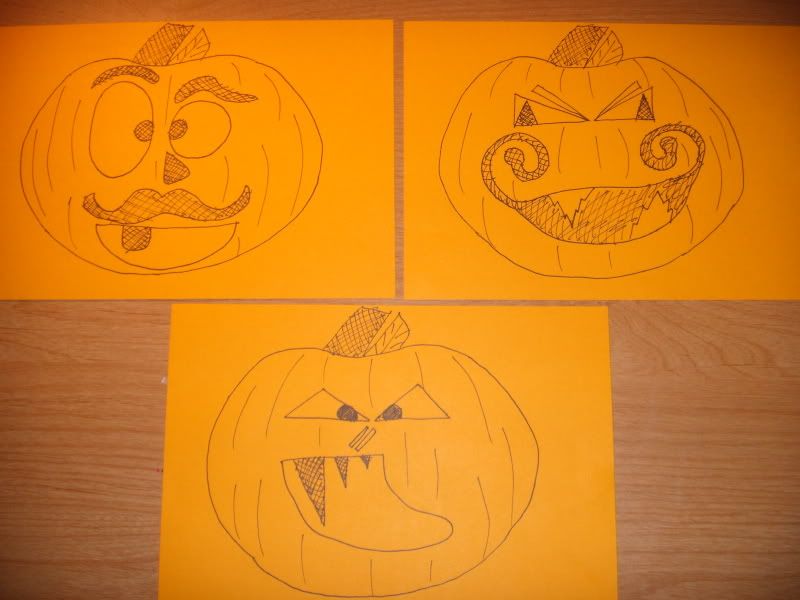 The next three. Still scary and whimsical.
Since I have an even number of pumpkins, I tried to have three scary faces and three whimsical / fun faces, but I think I ended up with four scary faces.  Ah well.  After all, 'tis the season to be scary.