Cold air finally descended on Atlanta this week and I'm not talking relatively cool air, I'm talking break-out-the-scarves-and-turn-on-the-heat cold air.  There is absolutely nothing better.  All of my neighbors have started decorating for Halloween with pumpkins and skeletons and even some orange strings of lights.  My front steps are full of pumpkins, courtesy of 3 for $10 large pumpkins and 6 for $10 small pumpkins at Whole Foods and my maple trees are turning a delightfully firey shade of red orange.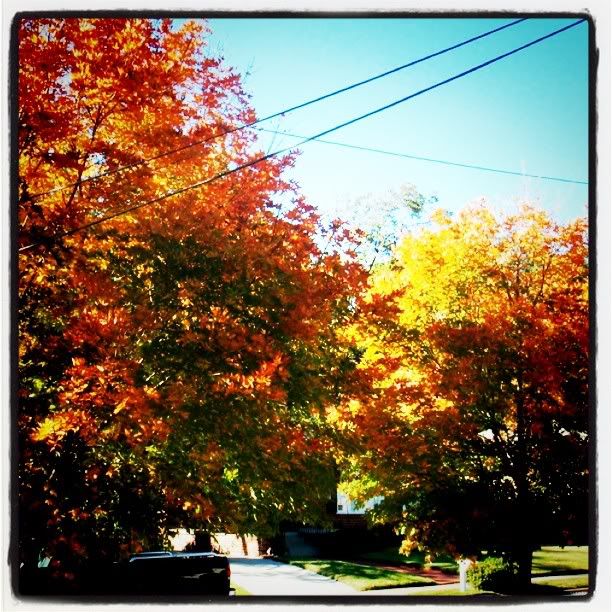 Perfect maple trees outside my house.
Yes, autumn is visibly here.  So why does walking through Macy's make you feel like Christmas is tomorrow?

I suppose Macy's isn't the only store being prematurely holly and jolly, but they do seem to be one of the biggest offenders.  For starters, the Pink Pig ride has arrived and is completely built atop the Lenox Square parking deck (sources tell me construction began around September 26th).  Signs inside advertise that the ride will run October 30 - January 2.  I'm sorry, but isn't the Pink Pig a Christmas attraction?  The first year it came back to Lenox and I rode it, I remember it being a tiny little train ride through a fake winter wonderland of frosted trees and candy canes.  Why must it open the day before Halloween?  Then of course Macy's itself is completely decorated for Christmas.  Wreaths, garland, lights, bows, and reminders to Believe are all over the store.  Specialty holiday items, like Spode china and holiday themed jammies are stacked high on tables so you don't miss them.  The home department is completely jolly - no blanket or table cloth is without a sprig of holly.

Bloomingdales is the same way. Crate & Barrel and Pottery Barn were thankfully still mostly fall themed with Thanksgiving table ideas at the front of the store, but Christmas was creeping in.  Displays of ornaments and reindeer plates were being brought out.  Hollister was even blasting Christmas music out into the mall.  Christmas music! Now, don't get me wrong, I love Christmas music.  I can't wait until it is the right time of year to turn it on and listen to it 24/7 until the 26th of December (and usually until January).  But Christmas music in October?  Christmas commercials are even starting to invade television with reminders to layaway your Christmas presents at various stores and reminders that Christmas gift catalogs will soon be setting up camp in your mailbox (Incidently I've already received Christmas / holiday catalogs from Crate & Barrel, Pottery Barn, Eddie Bauer & LL Bean).

It is still October and October is for Halloween and pumpkins.  Scary goblins, witches, skeletons, gourds, and creepy, slimy things.  There should be Jack o'Lanterns, leaves and rustic colors, not jingle bells and twinkly lights.  When did it become en vogue to completely skip over two fall holidays and just dive into Christmas? At least let me have Halloween and then we can talk about the Christmas season (which, I should point out does not technically start until Thanksgiving morning…at least for me).

Let's remember which season it actually is and enjoy it!

11 pumpkins, all waiting for Pumpking Carving Palooza 2011, which will occur on October 30-31st.